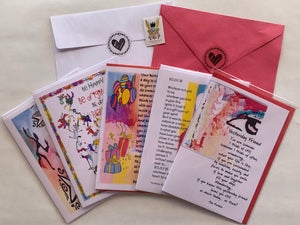 Card of the Month Club
Need a collection of cards on hand? Is it hard to find the time to run out and get that last minute card thats says just the right thing? I have the answer.
Join my card of the month club and get a card a month with a brightly colored envelope and ready to send forever stamp.
These cards are my personal words and designs and are NOT available anywhere else but directly from me.  Special occasion, inspiration and encouragement! 
6 months trial. No refunds after 6 month subscription. Renewal e mails will be sent in Nov. First card mails June 1st.  7 cards, 7 stamps and shipping for 50.00. Special introductory rate. 
Order MUST include and e mail AND a physical address. Thank you! I appreciate your support! Mewha!